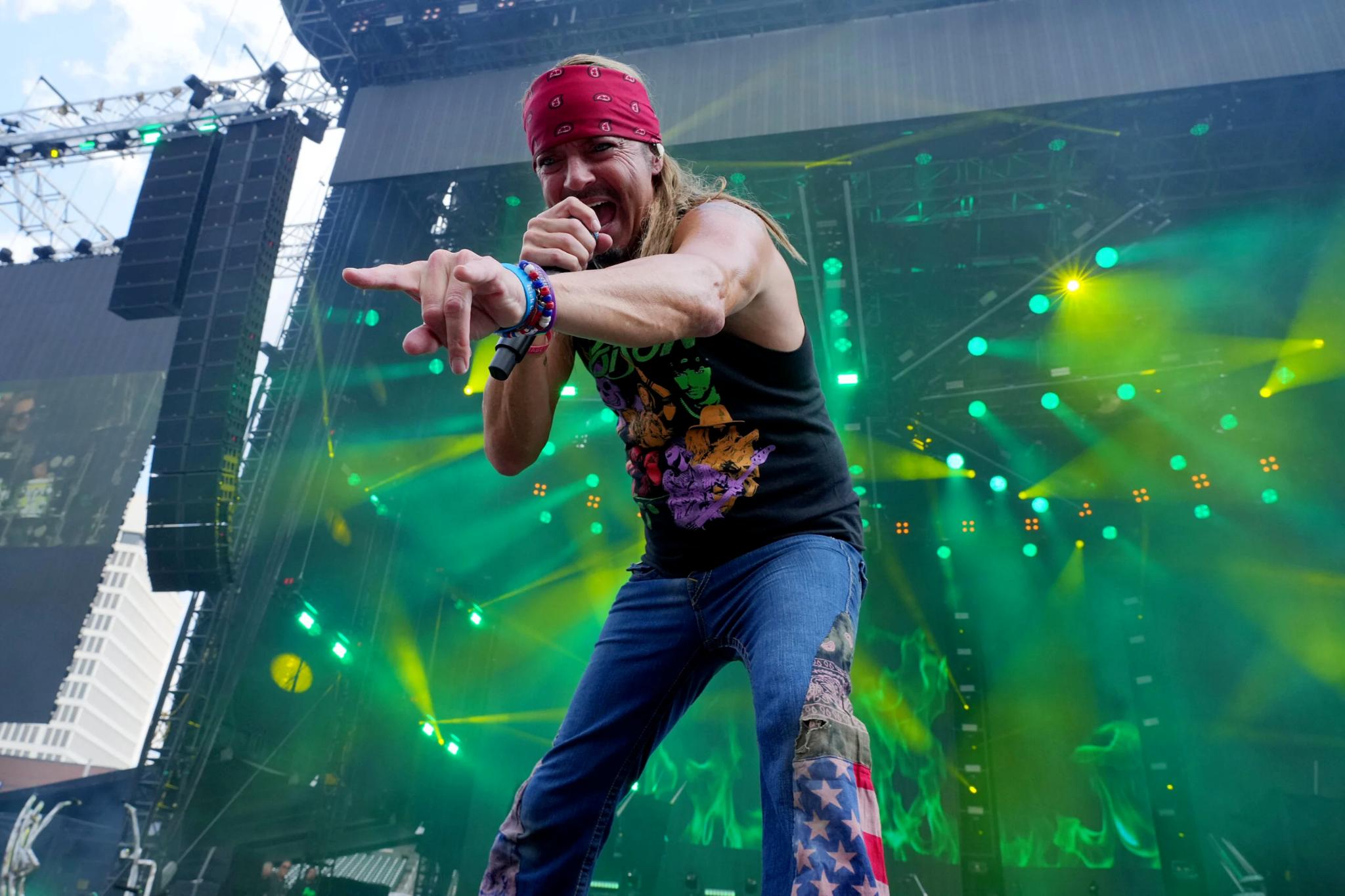 Music Icon Bret Michaels Reveals Special Surprise Invite to an Upcoming Show to the Families of the Robb Elementary School Shooting During Exclusive Interview with Uvalde Radio
By UvaldeRadio.net Staff
On Tuesday, August 16th at 10:00 am, Bret Michaels - famed lead-singer of the multi- platinum-selling rock band Poison - called in to UvaldeRadio.net for an interview with longtime friend and radio jock, Robert Miguel. The two first developed a kinship in the early 90's when Bret would join the veteran rock jock on-air during Robert's 10+ year stint at Dallas/Fort Worth Active Rock station KEGL 97.1 The Eagle.
The recent radio reunion was simulcast on stations UvaldeRadio.net and Uvalde Radio ROCKS, which follow a Country Music and Active Rock format, respectively. Robert Miguel launched UvaldeRadio.net in 2019, quickly followed by Uvalde Radio ROCKS in 2021, doing so after moving back to his hometown in 2017. Both stations strive tirelessly to provide a platform for elevating the voices, narratives, and cultures that make Uvalde a beautiful and unique corner of Texas.
The 30+ minute interview' s primary focus was to discuss Poison's appearance on the 2022 Stadium Tour, which also features Motley Crue, Def Leppard, and Joan Jett & The Blackhearts. The Live Nation tour is making its way to nearby San Antonio, Texas on Sunday, August 21st at the Alamodome, followed by Arlington, Texas on Monday, August 22nd at Globe Life Field.
Other topics included Bret' s solo music and planned 2023 " Parti -Gras " Bret Michaels Band tour, his latest bestselling Auto-Scrap-Ography book, his iconic reality television shows such as the record-breaking hit show Rock Of Love on VH1 and NBC's Celebrity Apprentice. Honored twice as Humanitarian of the Year by the Hollywood Christmas Parade, Michaels is known as a rockstar with a heart. His Life Rocks Foundation supports diabetic children, wounded warriors, veterans and pet-related causes around the globe. All of these are causes close to Michaels' heart as a lifelong type 1 diabetic, son of a veteran and pet lover.
The segment was also highlighted by intermittent broadcasts of Poison hits and Bret's solo music, including his latest hit song Unbroken, a power-ballad co-written with his teenage daughter Jorja Michaels. While the tune was inspired by what Bret called "a tough time in life as a teenage girl", he went on to explain that the song ultimately became about "going through adversity and finding light at the end of the tunnel".
The lyrics will surely resonate with the Uvalde community, who tragically lost 21 lives in a school shooting on May 24. During the interview Bret took pause to grieve with ​Uvalde.
"There's not enough I can say from my heart and soul to the families of the victims," he said. He went on to offer to do "something amazing for the families, which we' ll discuss on- or off-the-record."
Off-air, Bret went an extra step for the community and, in a pleasant and generous surprise, extended an invitation to the families of the Robb Elementary School shooting to be his and partner Live Nation 's guests at the San Antonio stop of The 2022 Stadium Tour.
The Bret Michaels Life Rocks Foundation will secure tickets to the show on Sunday, August 21 at the Alamodome. UvaldeRadio.net, in cooperation with the City of Uvalde, has begun to reach out to the families. Families can contact Sorayda Sanchez at City of Uvalde at cityhall@uvaldetx.gov or Robert Miguel at Uvalde Radio ROCKS at rock@uvalderadio.net .
UvaldeRadio.net and Bret Michaels Entertainment also issued a joint statement in relation to the offer:
"We know that nothing will recoup the unimaginable loss that these families experienced on May 24th. We also understand that they will be grieving for a length of time that cannot be measured. However, we are looking forward to doing anything we can to help ease the pain these families are feeling - through the healing power of music and an entertaining experience that's just down the road from their homes. It is the least that our two entities can do for this amazing community. Beyond that, this is also an opportunity to celebrate the lives of the victims and their long-lasting presence in all of our hearts."
Listeners can catch - and stream - the Bret Michaels interview with Robert Miguel at uvalderadio.net/rocks . To learn more about Bret, visit www.BretMichaels.com.