UvaldeRadio.net is honored to be a top 5 finalist for BEST INTERNET RADIO STATION at the 2023 Texas Regional Radio Music Awards. Please click the button below to cast your vote! You must register with email and choose the BRONZE membership to vote for FREE.
The Final Voting Round Begins for Texas Music's Biggest Nights Scheduled for March 26th

and 27th , 2023 at Texas Live! in Arlington, TX


13th Annual T3R Texas Regional Radio Music Awards and Future Faces Show 2023 Sunday, March 26 and Monday, March 27, 2023, at 7 p.m. CST


ARLINGTON, Texas - (January 6, 2023) – The final round of voting has begun for the 13th
annual T3R Texas Regional Radio Report Music Awards that will be held on Monday, March
27, 2023, at Texas Live! in Arlington, Texas on www.trrma.net and the Future Faces finalists
have been chosen.

The T3R Texas Regional Radio Awards show weekend kicks off with the Sunday Gathering, a
large worship service at Texas Live! In Arlington, TX, followed by the T3R Texas Regional
Radio's Future Faces Show at the PBR Cowboy Bar inside Texas Live! on Sunday, March 26th.
The Future Faces artists of 2023 are Jordan Rainer, Landon Heights, Olivia Harms, James Robert
Webb, Amanda Kate Ferris, Chaser Crouch, Sandee June, and Ryder Grimes.

The T3R Texas Regional Radio live music awards show will feature the biggest Texas country
stars and radio personalities from all over the nation with performances from William Clark
Green, Kylie Frey, Sundance Head, Bri Bagwell, Brodie Lane, William Beckmann and more
surprise artists to be announced.

The final round of voting continues through January 30, 2023. The nominees in each of the
awards show categories have been paired down to the top 5. Fans, artists, musicians, and music
industry professionals are invited to vote for the eligible artists, radio stations, DJ's, producers,
nightclubs, and festivals that are actively involved in the Texas Red Dirt scene.
More than 60,000 votes are cast in the three rounds each year.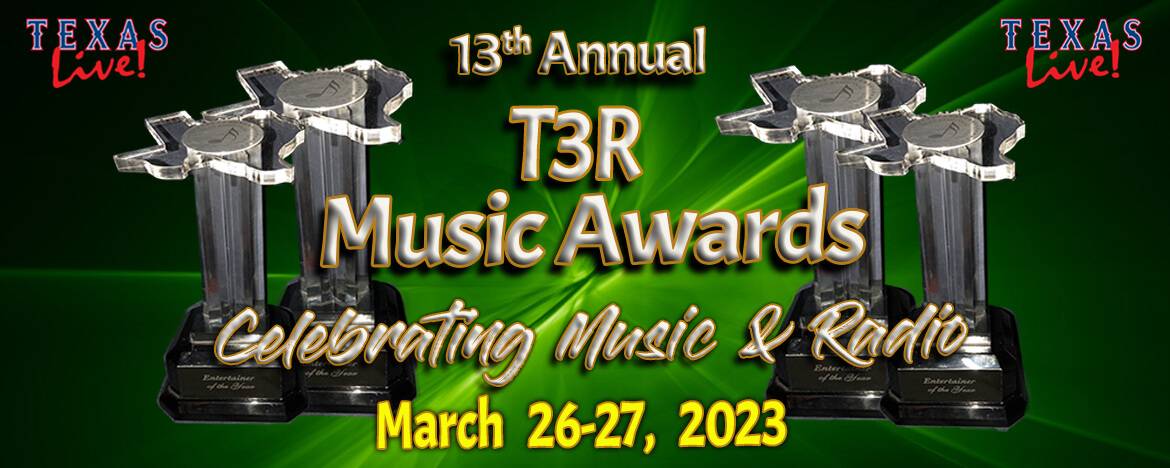 Uvalde Radio took the show on the road - to Arlington, Texas to attend the 12th Annual Texas Regional Radio Music Awards Show! Texas Music's biggest nights featured live performances by Jon Wolfe, Chad Cooke Band, Mike Ryan, Bri Bagwell, Curtis Grimes, Kylie Frey & more. We were honored to attend this star-studded event for the first time as FINALIST in the Internet Radio Station of the Year category. See pics from the event, video of select performances, and relive all the excitement of our LIVE our live broadcast in podcast form. Coverage of the event was made possible by our very special partners: Uvalde Convention & Visitors Bureau, Main Street Uvalde, Graff 7A Ranch in Hondo, and Texas Hill Country River Region.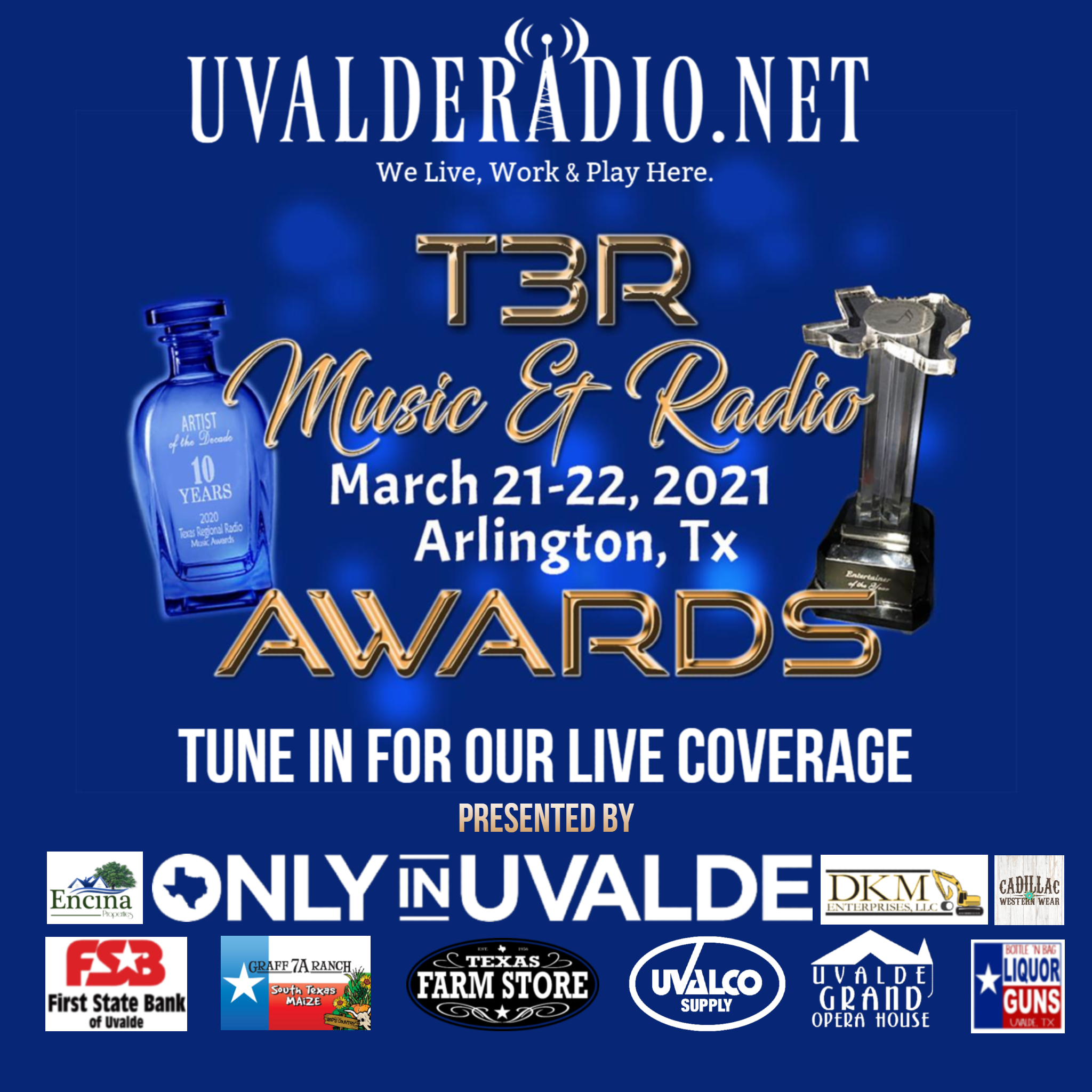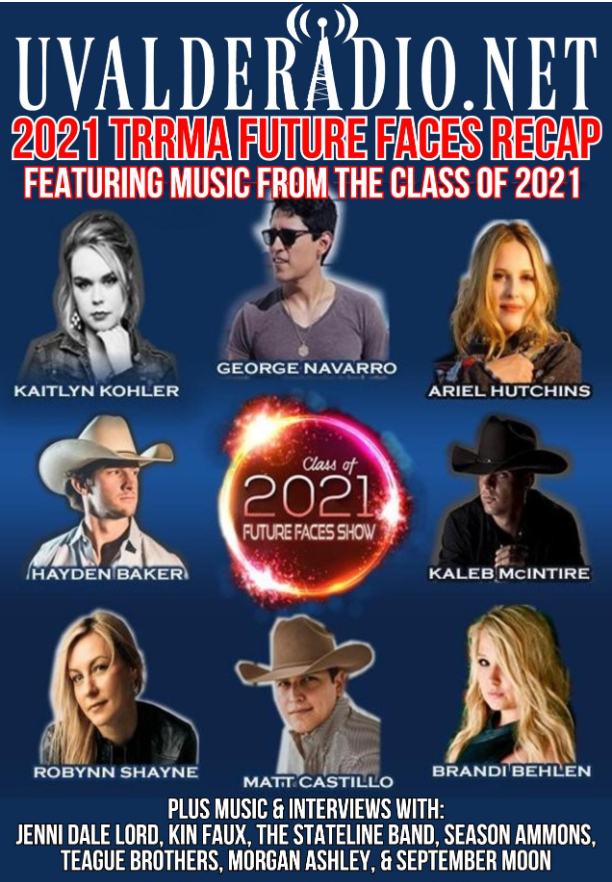 T3R TEXAS REGIONAL RADIO MUSIC AWARDS CEREMONY & DINNER
The TEXAS REGIONAL RADIO REPORT MUSIC AWARDS held its 11th annual T3R REGIONAL RADIO MUSIC AWARDS March 22nd at 1010 Collins Event Center in ARLINGTON, TX. The night's big winners were AARON WATSON, who won Entertainer and Male Vocalist of the Year, BRI BAGWELL, who won Female Vocalist of the Year, and RANDY ROGERS and WADE BOWEN who swept the Duo/Group/Band, Single, Album and Video categories for their "Hold My Beer, Vol. 2" collaboration and its single, "Rodeo Clown."
Artist of the Decade honors were presented to the RANDY ROGERS BAND for Entertainer and Duo/Group/Band of the Decade. The Female Vocalist of the Decade award went to BAGWELL and Male Vocalist of the Decade yielded a tie between WATSON and CODY JOHNSON. RADNEY FOSTER was presented with the Living Legend Artist Award.
Performing during the show were KEVIN FOWLER, SUNDANCE HEAD, JENNI DALE LORD, CREED FISHER, BAGWELL, MARK POWELL, KYLIE FREY, THE CHAD COOKE BAND, CROSS RAGS AND YOUNG, DAVID ADAM BYRNES, THE STATELINE BAND and BRODIE LANE. The show was hosted by artist KENDALL BEARD and AUSTIN RADIO NETWORK KOKE/AUSTIN's ERIC RAINES.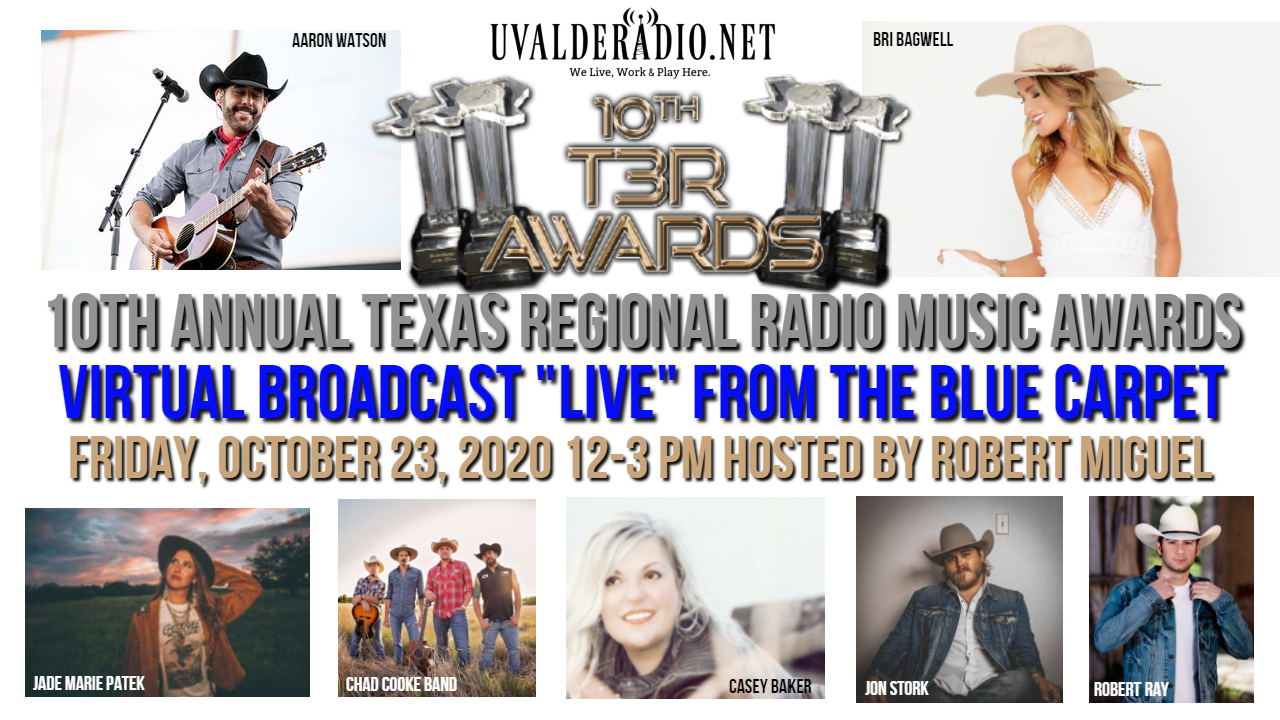 The 10th Annual T3R Texas Regional Radio Virtual Music Awards Show airs on
Monday, October 19th 8 p.m. CST on the @TexasRegionalRadio Facebook page
https://www.facebook.com/TexasRegionalRadio/
Click image below to view the Virtual Awards Video!
Listen To Audio From Our 2019 Broadcast